Carleton University and the National Gallery of Canada (NGC) have signed a letter of agreement to support a new graduate diploma program in Curatorial Studies this September. This formal partnership between a national museum or gallery and a university is the first of its kind in Canada.
Each shares a commitment to supporting visual arts through education, research and outreach. Over the years, the institutions have collaborated on lectures and public initiatives. They have been working on developing a strategy for curatorial capacity building in Canada for the last three years.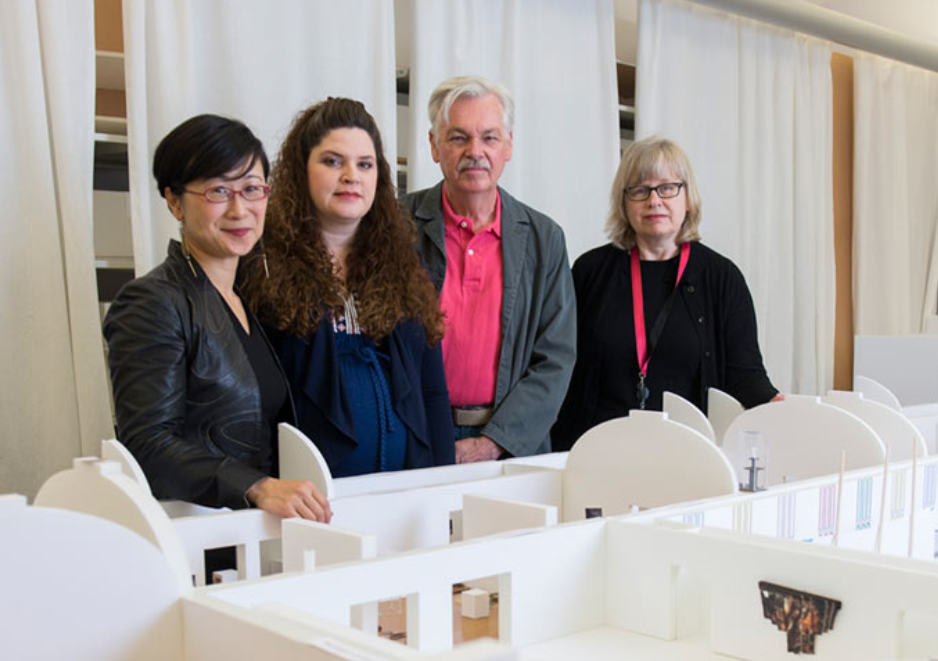 "The National Gallery of Canada is enthusiastic to partner with Carleton University in the aim of contributing to the quality of its Curatorial Studies program, as well as providing mentoring opportunities for the next generation of scholars and curators," said NGC Director and CEO, Marc Mayer.
As a world-class institution, the National Gallery of Canada is a recognized leader in the national and international art museum communities. Excellence in developing exhibitions, publications, and public programs, as well as in research, are at the core of the National Gallery's mission. In addition to supporting the development of strong curatorial candidates for positions across Canada, this partnership enhances the Gallery's educational role, and furthers its goal to make art accessible, meaningful and vital to diverse audiences of today and tomorrow.
The partnership allows Carleton to offer students in the visual arts stream of Curatorial Studies hands-on training at the National Gallery, providing unique opportunities to learn how the institution works backstage through a practicum component and a jointly designed course where students audit gallery meetings, study many of the museum's departments, organize their own small-scale exhibition and develop an exhibition proposal that they present to a panel of Ottawa-based curators.
This hands-on experience is combined with interdisciplinary theoretical training in critical curatorial studies as well as disciplinary education, helping to prepare students for the evolving demands of curatorial practice.
The pilot project developed by Carleton University and the National Gallery of Canada will serve as a model for expansion, both nationally and internationally.
This fall, Carleton will launch two new interdisciplinary graduate diplomas in Curatorial Studies, which include a material and intangible cultures stream to provide curatorial training for disciplines ranging from Anthropology to Earth Sciences, Film Studies and Public History.
The diplomas can be taken in conjunction with a graduate degree (master's or PhD) or as a stand-alone one-year diploma. Offered by Carleton's Institute for Comparative Studies in Literature, Art and Culture (ICSLAC), which has deep ties to Indigenous and transnational studies, the diplomas provide cutting-edge insights into the collection and display of culture in Canada.
Students will be exposed to a high level of critical instruction and hands-on training, as well as the Institute's interdisciplinary culture of intellectual engagement and inquiry.
"This partnership represents a major step in curatorial education," said Ming Tiampo, Art History professor and director of the Institute for Comparative Studies in Literature, Art and Culture (ICSLAC), which offers the diplomas. "It brings together hands-on institutional training with critical intellectual rigour to create a program that will prepare students both practically and intellectually to work in museums and galleries."
About the National Gallery of Canada
The National Gallery of Canada is home to the most important collections of historical and contemporary Canadian art. The Gallery also maintains Canada's premier collection of European Art from the 14th to the 21st centuries, as well as important works of American, Asian and Indigenous Art and renowned international collections of prints, drawings and photographs. In 2015, the National Gallery of Canada established the Canadian Photography Institute, a global multidisciplinary research center dedicated to the history, evolution and future of photography. Created in 1880, the National Gallery of Canada has played a key role in Canadian culture for well over a century. Among its principal missions is to increase access to excellent works of art for all Canadians. For more information, visit gallery.ca.
About Carleton University
Located in the nation's capital, Carleton University is a dynamic research and teaching institution with a tradition of leading change. Its internationally recognized faculty, staff and researchers provide about 30,000 full- and part-time students from every province and more than 100 countries around the world with academic opportunities in more than 65 programs of study, including public affairs, journalism, film studies, engineering, high technology, and international studies. Carleton's creative, interdisciplinary and international approach to research has led to many significant discoveries and creative works in science and technology, business, governance, public policy and the arts. As an innovative institution Carleton is uniquely committed to developing solutions to real-world problems by pushing the boundaries of knowledge and understanding daily.
Tuesday, May 30, 2017 in News, Programs
Share: Twitter, Facebook