–The following story was written by Taia Goguen-Garner.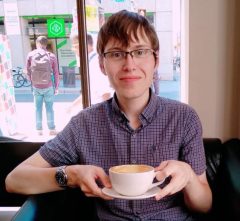 Mackenzie Kurzynski has used the skills he has acquired during his master's studies at Carleton to land himself a job in cybersecurity.Currently, Kurzynski is the Asia-Pacific Threat Intelligence Analyst at CGI Managed Security Services here in Ottawa. "I curate access to various dark and deep web sources in both Georgian and Mandarin Chinese. I observe the activities of these underground communities and report on their activities such as: the sale of malware, the development of emerging tactics, techniques and procedures (TTPs), and potential cyber attacks certain communities may perpetrate. I also ensure that any information which could be utilized to detect the compromise of a client's system is ingested into our threat intelligence database."

Kurzynski will be graduating this fall with a Master of Arts, specializing in European, Russian and Eurasian studies. His research examines the development of socialist movements of the Russian Empire.

"I compare how the General Jewish Labour Bund of Poland, Lithuania and Russia, and the Social Democratic Party of Georgia arrived at similar responses to the national question, whilst existing under very different circumstances." He explains that, "the national question, in the Marxist sense, refers to the place (or lack thereof) that national identities have within a Marxist framework."

Kurzynski has been taking the time to learn the Georgian language, which he said has been ranked the second hardest language acquisition difficulty for English speakers, according to the U.S. Government's Foreign Service Institute.

"My interest in Georgia was piqued after first getting a chance to travel there in 2015 whilst on exchange in Estonia. I fell in love with the country and the culture, and was happy to find that their own socialist movement's struggles with the national question meshed nicely with my own research interests."

Kurzynski's research has an impact on the perception of the country of Georgia as a whole. "Within Georgia, my research can aid the general public in understanding Georgia's rich history of inclusiveness, as well as the ideological development of those whom they consider to be the founding fathers of their nation."

Kurzynski had worked in Tbilisi,  the capital of Georgia. He did archival work in the National Parliamentary Library of Georgia and the National Archives of Georgia.

"I respect them immensely for their patience with my Georgian language skills,"  Kurzynski explained. "It was initially a struggle given my lack of practice immersed in a Georgian environment; however, given time we were able to slowly dissolve the language barrier that existed between us."

Now the big question: How did Kurzynski end up in cybersecurity? It is actually quite simple. The skills he acquired during his studies as an historian led him to where he is today.

"My research at Carleton has absolutely nothing to do whatsoever with cybersecurity. However, the skills acquired during my studies as an historian have proven invaluable in this line of work. In Threat Intelligence, we are expected to gather information from a wide variety of sources. We try and determine if a given threat actor is active on another forum, if the TTPs of a certain threat actor are being observed, have these TTPs or this strain or malware been utilized in the past, etc.  We then take all of our information and synthesize it into something which is reasonably digestible by everyone from executives at the c-level to security operations centre analysts."

He came to Carleton to study under Dr. Jeff Sahadeo after being recommended to look into coming to Carleton.

"Jeff has been instrumental in helping in so many ways. Without him, I would have never been able to get the required Georgian training to conduct this research. He was vital in helping me narrow my topic to something that could be accomplished within the time frame allotted by the program. He has also helped me develop a more concise writing style, ensuring that I always strive to provide justification for why something must be written about."

Kurzynski has since presented his research at the Canadian Historical Association's National Congress in Regina this past summer.

He is set to graduate this fall and then continue his job in cyber security.
Tuesday, October 23, 2018 in News, Research
Share: Twitter, Facebook