–Written by Ellen Tsaprailis
Carleton University student Troy Kenny is one of two graduate students to win this year's Hilary M. Weston Scholarship.
Created by the Ontario government in honour of Weston, the province's 26th lieutenant-governor, the scholarship is awarded to two students enrolled in full-time social work graduate programs at publicly funded Ontario universities to support their research in mental health.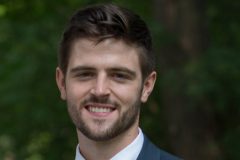 Kenny is researching the contemporary problem of "lost adolescent boys'' as he works toward becoming a practitioner in the field of youth mental health.
"By `lost,' I mean boys who present as possessing low ambition/motivation, few interests and little sense of purpose or life direction. While adolescence is typically a time where personal identity has not yet been solidified and the future often marked by profound uncertainty, there is an accompanying apathy that is concerning to me as a soon-to-be father and social worker," says Kenny.
"This lack of vitality is apparent in their flat affect, limited ability to articulate/converse, and excessive video game playing."
Kenny has isolated two factors that will drive his research.
"Boys' learning needs and styles do not mesh well within the existing educational system and many struggling adolescent boys lack a significant male adult role model in their lives. My research will focus on ways in which school connectedness might be fostered and positive male mentorship implemented in an effort to provide holistic treatment to adolescent boys with depression."
Kenny has a BA in Criminology and Criminal Justice from Carleton. He went on to pursue a Master's of Theological Studies at the University of Toronto before heading back to Carleton, where he has completed the first year of a Master's in Social Work.
"I am sincerely honoured to receive this award, especially since it's connected to a cause that I care so deeply about," says Kenny. "The scholarship is worth $7,500. I plan to use a portion of the money towards paying tuition, and with our first baby expected in June, the rest will probably be spent on diapers."
The timely scholarship announcement on May 7 coincided with the Canadian Mental Health Association's (CMHA) Mental Health Week.
According to CMHA, many Canadians experience poor mental health, even when they are not diagnosed with a mental illness.
In a 2016 survey by the American College Health Association's Canadian Reference Group Data Report, almost 90 per cent of Canadian post-secondary students from 41 campuses reported feeling overwhelmed in the previous year. In the same survey, a majority of students said they had felt very lonely or very sad in the past year.