Mukarram Ramadan recently graduated with her MA in Film Studies. As part of her degree, she participated in a practicum at The Independent Filmmakers Co-operative of Ottawa (IFCO) which led to her current job as a Membership Coordinator for IFCO. She shares her story: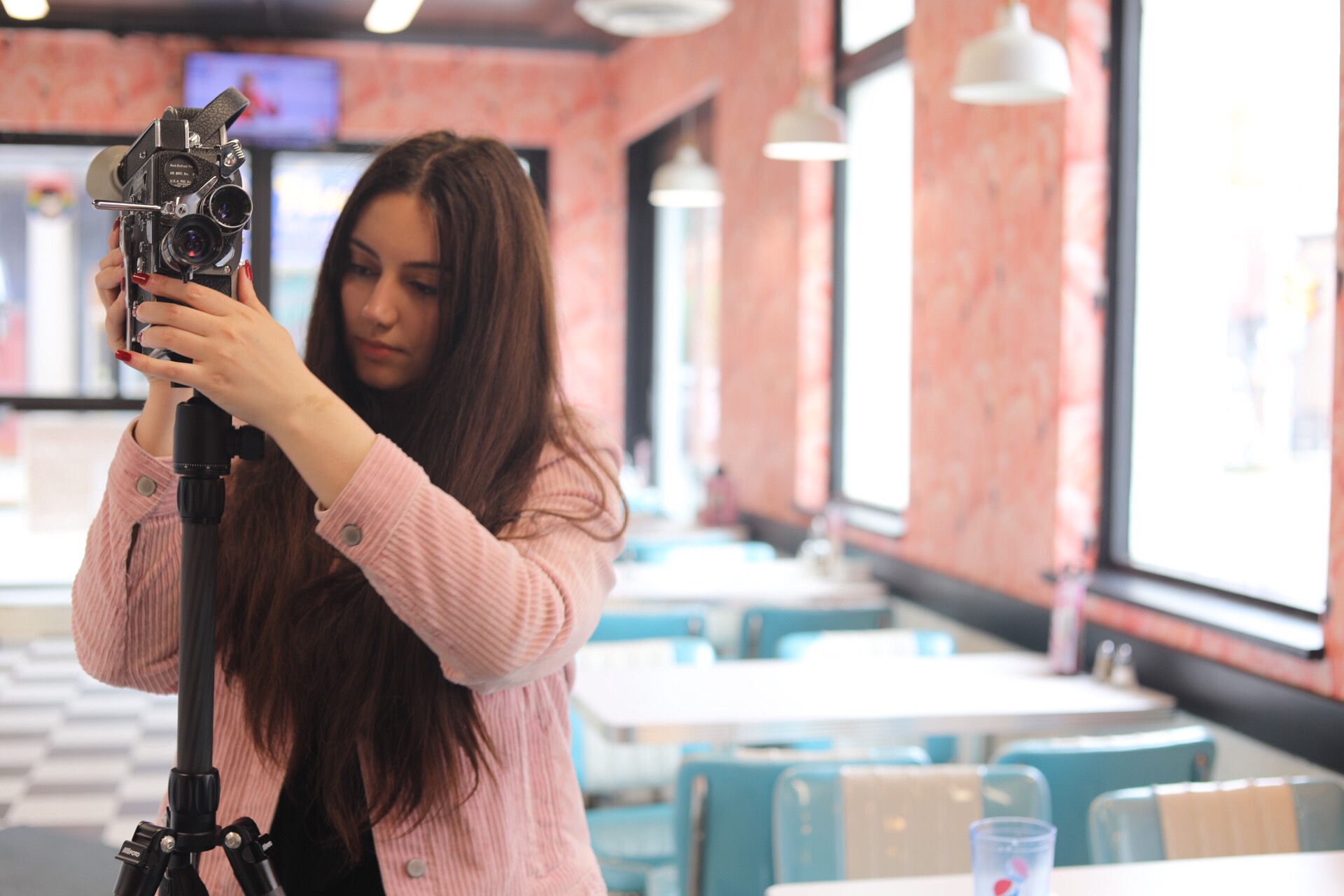 My undergraduate degree at the University of Ottawa was in Political Science and Communication. During my last term, I was missing a media research course which was no longer offered at the University of Ottawa. I was told I could take a similar course at Carleton University as part of an exchange program between the two universities.
During this course, I became very interested in critical and historical research in film studies. There is no other comparable university program in the National Capital Region, so I decided to pursue my Master's in Film Studies and I was admitted in fall 2017.
From the first week of the program, I had the opportunity to attend the Toronto International Film Festival (TIFF) which is one of the world's largest annual showcases of film, and with industry access, it meant networking opportunities, access to discussions/panels, master classes, meeting with filmmakers, and learning all about world cinema and Canadian film corporations such as Telefilm Canada. During the trip to TIFF, I was also inspired by some films in the Wavelength program, which led to my MA research paper on Slow Cinema (Slow Documentary in Three-Dimensions: Self-Reflexivity in Blake Williams' PROTOTYPE).
The Film Studies program at Carleton has film experts such as Prof. Gunnar Iversen who has published more than 20 books and 200 articles, in eight different languages (he teaches a really interesting course on Scandinavian cinema!). Also, Prof. Aboubakar Sanogo teaches a documentary film theory course and is the Graduate Supervisor of the Film Studies Program. He is also currently working on the African Film Heritage Project (AFHP), a partnership between the Pan African Federation of Filmmakers (FEPACI), Martin Scorsese's Film Foundation and the United Nations Educational, Scientific and Cultural Organization (UNESCO), which seeks to preserve and restore 50 African films of historical, cultural and artistic significance.
I would highly recommend the Film Studies program to those interested in the theoretical analysis of film and learning from film experts. As part of the program, you have the option in taking part in a practicum in local film festivals, filmmaker organizations, or archives/museums. I am interested in the medium of film (celluloid) because it's all new to me, so I decided to learn more about it by choosing The Independent Filmmakers Co-operative of Ottawa (IFCO) as my placement. IFCO is part of the Independent Media Arts Access Network (IMAAN) and The Media Arts Network of Ontario (MANO).
I grew up with digital technologies and simple, automatic point-and-shoot techniques. What attracted me to IFCO, a membership-based film art centre, is that everything is shot on analog (Super 8, 16mm, and 35mm) so you have to manually shoot and take your time to learn all the basic elements. IFCO also has digital post-production facilities such as editing suites and a sound studio. It is also launching a dark room soon. The Co-op offers training opportunities, kids filmmaking camp, workshops and film production challenges throughout the year. IFC) also has original filmmaking equipment and a partnership with Kodak, so you can order films directly from IFCO.
I became a member of IFCO during my practicum, and I started producing independent short films, some of which have been selected for local and international film festivals. The first short film I shot as an IFCO member is Vanilla, a black-and-white film about mental health. Vanilla takes you through the everyday ordinary life of a disabled senior citizen living in Ottawa, Canada and is battling two forms of cancer. It is a portrait documenting aging and the loneliness of those suffering alone and in silence. It was produced as part of IFCO's Dogme film production challenge. It is officially selected to play in festivals in Ottawa, Montreal and Beirut this fall.
In thinking of ways of combining my film training through my practicum at IFCO with my Carleton University Film Studies experience, I decided to cover my graduation day. I created this Super 8mm Carleton Convocation film of the June 14, 2019 ceremony with the help of another IFCO member/filmmaker, Saiful Wadud Helal. Upon graduating, I was happy to accept a job offer at IFCO from the Executive Director Patrice James (who is also a Carleton University alumni). I am currently employed as IFCO's Membership Coordinator and am putting my academic skills to use at IFCO in arts administration, promotion/outreach, and hopefully film programming in the future.
I am grateful to have known about IFCO through my practicum experience at Carleton University and would encourage anyone interested in filmmaking to become a member as the Co-op provides training, facilities, equipment, funding, information resources and means to exhibit work. It aims to encourage a critical discourse in and a historical appreciation of film as an artform, and to develop, support and sustain an innovative and diverse Ottawa-based community of artists.
Note:  For more information about the MA in Film Studies at Carleton University, go to: https://carleton.ca/filmstudies/graduate/. For information about how other graduate students found work, click here.

Monday, August 12, 2019 in News, Programs
Share: Twitter, Facebook