Recently two Carleton doctoral students (Patricia Bérubé in Cultural Mediations and Abigail Curlew in Sociology) were among 20 recipients of a scholarship presented by The Pierre Elliott Trudeau Foundation.This is Bérubé's story.
Imagine visiting a museum, standing in front of a piece of art and not being able to fully see the painting. This is a realty for those a part of the low-vision and blind community.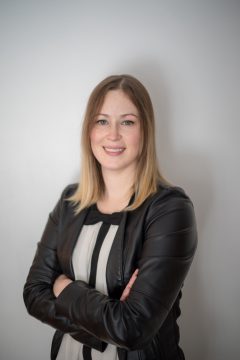 Patricia Bérubé a PhD student in Cultural Mediations, is working towards making museums more accessible for those who are blind or with low-vision. She is conducting her research by collaborating with low-vision and blind communities to co-create tactile and auditory representations of paintings.
"Collaborators will discover where each colour is placed at their own pace, instead of having to wait for someone to provide them with an audio description," explained Bérubé.
Bérubé's interest in this topic piqued when wanting to study a well-renowned French romantic painter, Eugène Delacroix.
"I was mainly interested in his brilliant use of colours and the way he balanced them altogether with harmony and ease," described Bérubé. "Then, while realizing that a many scholars and curators had already studied this famous artist, I also acknowledged the fact that some people don't even have the possibility to see colours and shapes due to a loss of sight. Thanks to my previous background as a 3D artist, I had the idea of producing tactile interpretations of 2D artworks to make them more accessible for persons with disabilities."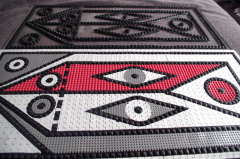 Bérubé's prototypes, that were realized during her Master's project, were exhibited in the Montreal Museum of Fine Arts for a little over a year. Her prototypes are now on their way to Québec City where they will be presented until December in the exhibition Exploration de l'impression 3D, which is on 3D painting. Bérubé is hoping to collaborate with a museum in the Ottawa area to implement new prototypes as well.
Bérubé is a recipient of the Pierre Elliot Trudeau Foundation Scholarship as well as the Joseph-Armand Bombardier SSHRC Scholarship.
"I learned I had just won the Pierre Elliot Trudeau Foundation Scholarship, on the same day I had also won the Bombardier SSHRC. While that day was full of emotions, what meant the most to me was the realization that my research work was being recognized as being important," emphasized Bérubé.
Dr. Jesse Stewart from the School For Studies in Music and Culture and Dr. Lois Frankel from the Industrial Design Department have been supervising Bérubé throughout her PhD research.
"I came to Carleton after meeting with these two experts because they inspired me so much and I really saw them as mentors with whom I would like to work for the coming years. Moreover, regarding the nature of my research work, I was really looking for an interdisciplinary co-supervision."
Once she graduates, Bérubé wants to teach at a university or pursue postdoctoral studies in a related field.
–The above story was written by Taia Goguen-Garner. The photos were taken by Nicolas Billardon. 
Friday, October 18, 2019 in Awards, News, Research
Share: Twitter, Facebook