Do certain pollutants cause or contribute to the onset of diabetes? That's what researchers in Prof. Jenny Bruin's lab are trying to determine. Bruin, herself, thinks there is a link.
Kyle Van Allen – Flame Retardants
One of her PhD students, Kyle Van Allen, is focusing his research on a class of chemicals called Flame Retardants which reduce the risk of ignition and slow the spread of fire. These chemicals are added to many things we interact with day-to-day such as fabrics and electronics, thus making it difficult to avoid them.
Van Allen points out that exposure to pollutants such as flame retardants has become a global issue because they resist degradation and their effects on people, in many cases, remain poorly understood.
He continues: "Dechlorane Plus is a flame retardant that has been found in house dust, hair, serum and the breast milk of Canadians and is still being assessed for its effects on human health."
Van Allen goes on to explain that his projects focus on identifying chemicals that might have harmful effects in human beta cells and evaluating how exposure to these chemicals might influence the progression of diseases such as Type 2 Diabetes. "My research allows me to identify potentially harmful Flame Retardants that are currently in use and/or prevalent in Canada, and then evaluate the associations between the presence of these chemicals in human tissues with altered beta cell function."
Ultimately, he is hopeful that his research may help influence health and regulatory policy for flame retardants.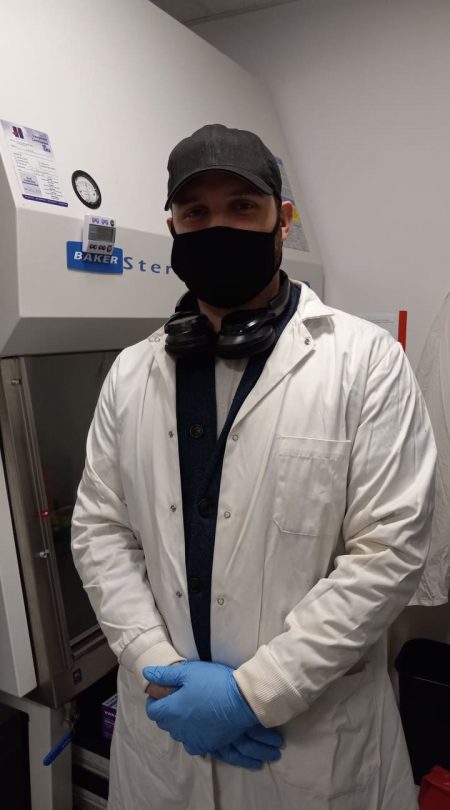 The PhD student says he is fortunate to work with "some incredible people both within my own lab and from across the country to publish two articles."
One of those people is his supervisor, Dr. Jenny Bruin. "Her dedication and commitment to ensuring the success of her students is second to none. She has cultivated a lab environment that encourages exploration and free-thinking that has pushed me to become the researcher that I am today."
Van Allen was awarded the Directors' Award in Biochemistry that recognized his Honour's thesis that focused on the effects of Dechlorane Plus.
Jana Palaniyandi – PFAS
Another of Dr. Bruin's PhD students, Jana Palaniyandi, is studying the effects of poly and perfluoroalkyl substances (PFAS) exposure on our metabolism (the chemical reactions in our body's cells that change food into energy.)
PFAS are a class of environmental pollutants used in a variety of consumer products, for their water- and grease-repellant properties, in coating fast-food packaging, non-stick cookware, and outdoor clothing and equipment. Due to their widespread use, PFAS have been detected in plasma of over 99 per cent of the Canadian population.
Palaniyandi points out that PFAS also are suspected of having associations with metabolic disruption in diseases such as diabetes.
Palaniyandi is using data from the Maternal Infant Research on Environmental Chemicals, a pan-Canadian pregnancy study, to determine the association between PFAS levels and inflammation, and how adverse metabolic outcomes such as gestational diabetes mellitus affects this relationship in pregnant women.
She will also conduct lab experiments to study the impact of PFAS exposure on human pancreatic islets and beta cell function.
Like Van Allen, she hopes her research will contribute to the high-quality epidemiological and experimental data that can be used to inform policies and decision-making on this ever-expanding, complex group of substances.
Palaniyandi is also a trainee in the Canadian Islet Research Training Network (CIRTN), which comprises more than 40 labs across Canada and over 120 researchers and staff with a shared interest in islet biology. Her supervisor, Dr. Jenny Bruin, is on the CIRTN leadership team and mentorship committee, and is working with CIRTN colleagues from across Canada to establish diverse training opportunities that complement the training students receive at Carleton.
Palaniyandi says she feels extremely fortunate to perform her research under Dr. Bruin's supervision. "Dr. Bruin fosters a lab environment that promotes inclusivity, collaboration and research creativity. Her excitement for research and discovery keeps me motivated to put in my best efforts. She is always available to provide support when planning an experiment or on any other aspect of my project."
Wednesday, February 9, 2022 in Research
Share: Twitter, Facebook