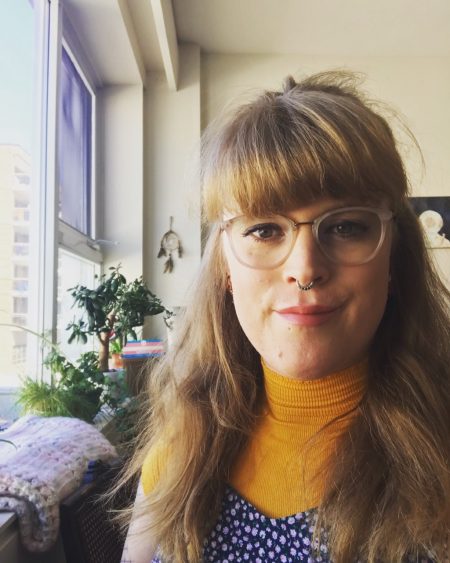 Recently two Carleton doctoral students (Patricia Bérubé in Cultural Mediations and Abigail Curlew in Sociology) were among 20 recipients of a scholarship presented by The Pierre Elliott Trudeau Foundation. This is Curlew's story.
The Internet has the power to connect individuals from all over the world who share the same interests, views, and thoughts. Online hate groups have been one of the results of this, allowing individuals to spread their hate messages beyond the confines of their social circles.
Abigail Curlew, a PhD student in the Sociology program is looking at Internet doxxing and far-right digital vigilantes affecting the trans community.
"Doxxing is the act of digging up information on a person's identity, associations, and day-to-day activities," explained Curlew. "More often than not, digital vigilantes might dig up publicly accessible information on the Internet and post it to a hostile web forum in the form of a rough dossier. In more extreme cases, vigilantes might publish a home address or phone number which can result in in-real-life (IRL) harassment and death threats."
Curlew's interest in this research piqued when she was experiencing Internet doxxing herself as a trans women.
"I was first terrified and felt overly vulnerable, but my second take was one of curiosity and intrigue," shared Curlew. "Who are these people who spend a great portion of their day-to-day life monitoring and stalking trans women in order to engage in collective acts of surveillance and harassment over the Internet? Where is the source of their abject hatred? How do these people end up entangled in online hate groups? And how, as a society, can we address these new vectors of violence in our society?"
Curlew's research provides insight into the consequences of democratic participation through online formats and how it has been compromised due to the omnipresent threat of retaliation. Her research also highlights how mostly men are motivated to join, participate and engage in online hate groups.
On top of Curlew's research, Curlew has worked as a freelance journalist for multiple publications such as Briarpatch Magazine, The Conversation and Vice Canada.
"One of my main contentions with the academy (and the social sciences more broadly) is that we rarely take the time to actively contribute to the public discourse and support the communities that we research with. One of my fundamental goals as a writer is to take the scholarly material from the academy and translate it into something readable outside of the academic institution. This often means dropping superfluous disciplinary jargon and using journalistic writing strategies to make a piece of academic critique interesting to read."
Curlew is also in the process of writing a book with Between the Line's Press. The book is inspired by her own experiences with harassment and doxxing as a trans woman. In the book, she explores the issues of DIY gender policing and digital vigilantism and their impact on publicly facing trans women.
"It's a problem that is prevalent in our society but rarely talked about. My goal is to illuminate these issues and provide advice for how we might improve our personal Internet security in order to preserve as trans women in a hostile society."
Dr. Aaron Doyle from the Department of Sociology and Anthropology and Dr. Jeffrey Monaghan from the Institute of Criminology and Criminal Justice have been supervising Curlew throughout her research.
"My supervisors are both incredible scholars involved in our sub-discipline of surveillance studies and have done a great deal of critical scholarship and public engagement. I am happy to say that they are always willing to help and give advice on my work and are not afraid to share criticisms about my mistakes in the interests of developing as a critical scholar myself."
Curlew is also a recipient of the Trudeau Foundation Doctoral Scholarship for her research.
"When I got the call from the Foundation I started crying on the phone, and than spent the next few weeks fretting about how this must be a joke and I couldn't possibly have won this. The scholarship allows me to pay my research participants for their time. Trans women are often sought out to discuss their experiences, but are rarely compensated for their time. Many of us lack social and financial support, and are overburdened by a society who wants to study us without uplifting us. I will proudly be able to pay the people who take their time to speak with me about their (often traumatic) experiences."
Curlew is set to continue her research as well as finish writing her book in the coming months.
"I am hoping to continue my work as both a scholar and journalist, conducting research on hate groups and translating academic knowledge for a wider audience through journalistic writing."
–The above story was written by Taia Goguen-Garner.
Wednesday, September 25, 2019 in News, Research
Share: Twitter, Facebook