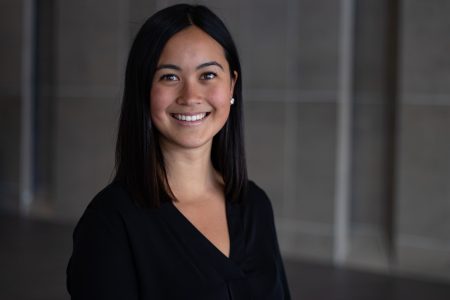 Although her thesis work explores shame, guilt, and forgiveness, Master's Psychology student Elisabeth Bailin Xie concurrently worked on a separate research project as a course option in her degree program.
Working with Psychology Professor Dr. Rachel Burns, their independent research project focused on the relationship between depression and optimism among individuals living with diabetes.
They found that the higher peoples' level of optimism was before a diagnosis of diabetes, the less likely they would be to develop elevated depressive symptoms within six years after a diabetes diagnosis.
Xie points out that the risk of developing depression is much higher among individuals with diabetes compared to those without diabetes and living with both diabetes and depression has negative implications for diabetes prognosis.
"For instance, individuals with both diabetes and depression are at greater risk of diabetes complications and have poorer diabetes management and metabolic control compared to individuals with diabetes alone," shares the graduate student.
She notes that not a lot of research has explored how a positive psychological outlook can help protect against the development of depressive symptoms following a diabetes diagnosis. Likewise, she says there is not a lot of existing research on whether optimism helps protect against depressive symptoms in the long-term.
"Our research helps to fill these gaps by suggesting that optimism does help to protect against depressive symptoms within six years following a diabetes diagnosis."
Xie hopes that their research findings will encourage future research to consider screening for optimism. "I think it might be useful to help identify patients who are at greater risk of developing elevated depressive symptoms in order to provide these individuals with additional preventative services. I also hope these findings encourage future research to consider optimism when developing interventions for individuals who are at risk or have recently been diagnosed with diabetes."
Xie says she first got interested in this subject following personal experiences with sports-related injuries, "I became interested in resilience and the personal and relational factors that help individuals overcome adversity."
In her undergraduate degree, she conducted some research on individual strengths by examining the protective role of optimism in adolescents with mental health disorders. After learning about Dr. Burns' research, she wondered whether optimism would be a protective factor for those with diabetes.
"Dr. Burns was also interested in combining health psychology and aspects of positive psychology, so the research question seemed to fit well with both of our research interests."
Shares Xie: "Dr. Burns was incredibly supportive throughout the whole research process. Since I began working with her on this project, she has been very encouraging. This was the first time I had done research on diabetes and Dr. Burn's expertise in this area of research was extremely helpful. She met with me regularly and taught me a lot about the existing research on diabetes and about using big data sets."
Xie is glad to be pursuing her master's degree at Carleton. "I was and am continuously impressed by the support and enthusiasm from the psychology department at Carleton and the overall University community. I am also impressed by the opportunities that are provided to students. My interest in psychology and these positive past experiences were a large part of what motivated me to pursue my grad degree at Carleton University with professor Dr. Chris Davis." Dr. Davis is supervising her thesis research.
Xie has received funding from the Social Sciences and Humanities Research Council, as well as having received an Ontario Graduate Scholarship.
She will be presenting this new research at the Society for Personality and Social Psychology (SPSP) Conference in New Orleans in February. Moving forward, she hopes to pursue a PhD in psychology.
Burns' and Xie's paper will be published in an upcoming issue of the Journal of Health Psychology.
Monday, October 21, 2019 in News, Research
Share: Twitter, Facebook