Canada's history and heritage plays an important role in shaping our identity. Learning about these histories is an important part of being Canadian, even the histories that are not usually found in school history books.

Nathalie Picard and Cassandra Marsillo, Master's students in Public History have both focused their research on educating the public on forgotten histories.

Experience of Japanese Canadians Interred During WW2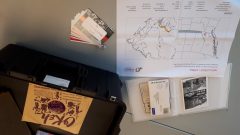 Picard's research focuses on Japanese Canadian internment during the Second World War. Her focus is finding a way to facilitate teaching about it in Canadian high schools. This has led her to create an education kit for teachers to use in their classrooms. The Nikkei National Museum & Cultural Centre has been using Picard's kit as a part of their education program, you can check it out here.
The idea behind Picard's kit is to use artifacts to teach about history as a way to bridge the gap between students and the content they are learning.
"By being able to interact with the objects in the kit and doing activities that use the objects to learn about Japanese Canadian internment, students will be able to engage more actively and thus empathize with what Japanese Canadians experienced," explained Picard.
Picard's kit was a collaborative effort with the Nikkei National Museum & Cultural Centre (NNM), as well as the Japanese Canadian community.
André Mersereau from Chapter One Studio had the technical knowledge to reproduce the majority of the items in the education kit. Carolyn Nakagawa, Culture, Education & Programs Coordinator, and Sherri Kajiwara, Director/Curator, provided Picard with feedback as the kit evolved.
"This was a challenge that I was eager to step up to, but also came with significant pressure," shared Picard. "Because I always knew that the education kit would be used by the NNM at the end of my project, I felt responsible for successfully representing this history, which ultimately gave me a greater focus,"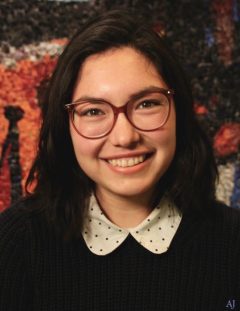 Picard's interest in Japanese Canadian Internment piqued when working as an intern at the Nikkei National Museum & Cultural Centre. She was doing research for the website Tashme.ca, which focuses on the experiences of internees in the Tashme internment camp.
"That was first time that I learned about the internment of Japanese Canadians in a substantial way," said Picard. "The work had enough of an impact on me that when I decided to pursue my masters, I reached out to the centre to work with them for my summer Public History internship."
Dr. David Dean, a professor in Public History has been supervising Picard throughout her research.
"He was integral for the creation of the education kit because he was always there to be a guiding point for the scope and focus of the project," emphasized Picard. "While I had many ideas of how to put my idea for the education kit into practice, David was able to steer me in the right direction so that I could create a project that was feasible for me to accomplish."
Picard is currently working at the Juno Beach Centre in France, from which she hopes to gain more experience for a career in developing museum education programs.
The Experience of Italian-Canadians During the 50s and 60s
Cassandra Marsillo has created an exhibit called The Yellow Line highlighting the experiences of Italian-Canadians growing up in Montreal during the 1950s and 60s. Her focus is storytelling by using an audio loop of narrators telling their stories and experiences. The central theme of these stories is education, specifically how the politics of language, community and identity are wrapped up in school experiences.
The narrators of the exhibit consist of diverse Italian-Canadians, some who immigrated to Canada, and some of who were born here. This is also reflective of Marsillo's experience as a third-generation Italian-Canadian by intertwining her family photos and stories within the exhibit.
"For the exhibit, I focused on setting up familiar spaces. Then the narrators brought the rest," explained Marsillo. "Their stories, objects, and photos depicted their lives through their testimonies of immigration, discrimination, self-acceptance and self-consciousness, resilience, isolation, togetherness, education and food – of course!  The title of my project, the yellow line, comes from the line that divided my playground, when I was in elementary school, 30 to 40 years after the narrators' stories. The line we couldn't cross and that caused so much tension between 'us', the English, and 'them', the French. Though, of course, we weren't really 'English'".
Her exhibit was held at the Casa d'Italia, a historic building and Italian community centre in Montreal, from March 22-24, 2019.
"Before March 22, the exhibit lived on my computer, in my bedroom and on my parents' dining room table," described Marsillo. "I only saw it all come together on March 21."
Marsillo became interested in this subject in 2014 when researching the 1969 Saint-Leonard Crisis during her undergrad. This was a conflict that happened in the suburb where she was born focusing on the right to choose the language of instruction when the school board proposed changing all bilingual programs to French, this affected many Italian-Canadians.
"I realized that there was a place where all my interests could converge, bounce off of each other, and grow together: art, history, and education," shared Marsillo. "I decided to do a specialization in public history"
Marsillo hopes that this exhibit displays how historians can collaborate with the public in meaningful ways.
Dr. John C. Walsh, the Co-director of the Carleton Centre for Public History supervised Marsillo throughout her research.
"Dr. Walsh took the time to give me guidance, support, and encouragement," emphasized Marsillo. "He trusted me and gave me the space to do the work, but was there when I would inevitably second-guess all my decisions or lose faith in myself. In those moments, it wasn't about telling me what or what not to do. It was about giving me the tools to move forward and trust myself again. It was about asking the right questions but not always expecting an immediate answer. Having a supervisor like Dr. Walsh was instrumental."
Marsillo is back living in Montreal pursuing her public history and teaching career. She has taught at Dawson College and is now doing a internship at the Young Canada Works Building Careers in Heritage internship at the Italian-Canadian Archives of Quebec.
For more information about the Public History program at Carleton, click here.
–The above story was written by Taia Goguen-Garner.P