–The following story was written by Taia Goguen-Garner.
The Neonatal Intensive Care Unit specializes in critical newborn care often due to premature birth, health complications, or delivery complications.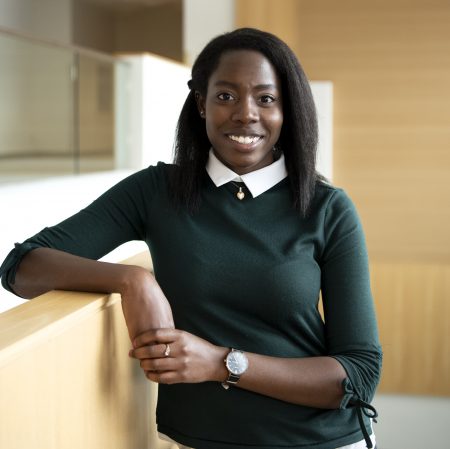 A PhD candidate in Biomedical Engineering, Yasmina Souley Dosso is researching building a non-contact, non-invasive monitoring system for patients in the neonatal intensive care unit (NICU).
"Currently, patients are monitored using multiple wired sensors which can be detrimental to their fragile skin, especially for those in a precarious condition," explained Souley Dosso. "This problem could be overcome by simply mounting a camera above the patient and analyzing video recordings."
Souley Dosso is using a depth-sensing camera to record up to six hours of data from patients admitted to the NICU of The Children's Hospital of Eastern Ontario (CHEO).
"This camera simultaneously records colour, depth and near-infrared video data from the scene, thereby providing useful data even when the patient is subjected to complete darkness," said Souley Dosso. "These data enable various analyses including non-contact vital sign estimation, patient motion detection and clinical intervention detection to support the clinical staff in patient care."
After completing her BSc degree in Biology at Concordia University and an undergraduate degree in Math specializing in Statistics at Carleton, Souley Dosso combined these interests in her graduate studies.
"I was curious about Biomedical Engineering given that it is a multi-disciplinary field including multiple interesting disciplines," shared Souley Dosso.
Souley Dosso's research directly benefits newborn patients by eliminating the stress and irritation adhesives from sensors pose on their skin.
"When the patient moves and creates motion artifacts on those sensors, false alarms are generated," explained Souley Dosso. "The abundance of false alarms then creates alarm fatigue where nurses become desensitized to those signals. With video recordings, we could eliminate or reduce the number of sensors attached to the patient, or at least inform the clinical staff of potential false alarms from wired sensors."
This research could also help nurses complete their daily duties such as feedings and diaper changes with ease.
"All events must be properly documented. However, due to high workload, this documentation is often incomplete or inaccurate since it is often done retrospectively," explained Souley Dosso. "From video analysis, we can automatically detect interventions when they occur and could automate parts of the documentation process to assist nurses."
This data has been collected at CHEO over two years. During the data collecting process, the pressure-sensitive mat was placed underneath the patient while the camera was positioned above the bed.
"I have created a system to estimate heart rate from video using all three camera channels, and therefore be robust to lighting variations which occur often in the NICU," said Souley Dosso. "I have also created a neonatal face tracking model useful for obtaining continuous data in vital sign monitoring, and potentially other studies."
Dr. James Green from the Department of Systems and Computer Engineering has been supervising Souley Dosso throughout her research.
"My graduate studies experience would have been different if it wasn't for a supportive, present and very helpful supervisor," expressed Souley Dosso. "It's important to have a supervisor who will help you meet those deadlines, hear your ideas, strategize with you on different projects, be open, communicative, understanding and patient. All of these can summarize Dr. James Green and I am very thankful for all those years of guidance I have gained under his supervision."
In the upcoming year, Souley Dosso plans to explore other components of this developing monitoring system, including detecting certain objects in the scene and categorizing clinical interventions further.
"Currently, some research is ongoing to combine data from the camera and the pressure-sensitive mat," explained Souley Dosso. "To this end, both modalities could complement one another to become a comprehensive and effective monitoring tool in the NICU or even at home."
Friday, April 9, 2021 in News, Research
Share: Twitter, Facebook