"The majority of insects are sensitive to low temperatures. Very low temperatures can lead to death or injury as a result of tissue damage that is driven by a loss of ion and water homeostasis."
–Mahmoud El-Saadi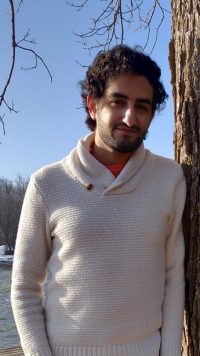 Mahmoud El-Saadi, a master's student in Biology is investigating possible links and mechanisms between insect's gut and immune activation after being exposed to low temperatures.
"If bacteria are finding their way out of the gut and into the body, the resulting infection may contribute to cold-induced injuries and explain the immune activation," explained El-Saadi.
El-Saadi's research has important implications as the geographical distribution of insects heavily relies on their ability to tolerate low temperatures. "By better understanding how insects are affected by low temperatures, we can better predict the spread of different insect species in different regions of the world," said El-Saadi.
El-Saadi became interested in this area while taking an entomology course taught by Professor Jayne Yack during his undergrad degree.
"I was immediately interested in insects and their diversity, as well as their unique biology even in closely related organisms," shared El-Saadi.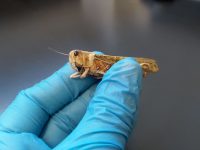 The master's student is conducting his research by feeding locusts a fluorescent strain of bacteria and exposing them to low temperatures. He then examines them under a UV light where he looks for fluorescent colonies which would indicate the leak of gut bacteria.
So far, El-Saadi has found that there is no bacteria leak across the insect gut after cold exposure.
"I think this is interesting, as parts of the bacterial membrane and wall can also trigger the insect immune response," explained El-Saadi. "My future experiments for my research will involve looking for bacterial products in the hemolymph to investigate a link between them and the immune response." The hemolymph is a fluid, similar to the blood in vertebrates, that circulates in the interior of an insect's body.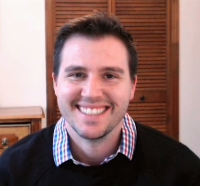 Dr. Heath MacMillan, assistant professor from the Department of Biology has been supervising El-Saadi throughout this research. His research is funded by the Natural Sciences and Engineering Research Council of Canada (NSERC).
"When we first heard that Heath was awarded an NSERC Discovery Grant, we were all very happy and excited," shared El-Saadi. "The grant has supported many of us in the lab and has allowed us to carry out many experiments for our studies using new agents and equipment."
"When I first joined Heath's lab as a volunteer in 2017, I knew very little about the research world," shared El-Saadi. "Heath was very helpful in getting me accustomed to a lab environment and even gave me the opportunity to start my own research project. Since that time, and through my honour's thesis and master's research in his lab, he has always made time to address my concerns and help me when I needed it. He has also always encouraged me to attend conferences and publish papers to help me in my long-term career goals."
Prof. MacMillan recently won a Faculty Graduate Mentoring Award for going above and beyond to assist his graduate students.
As for the future, El-Saadi hopes to continue this research into his PhD. "I am very interested in this interface between low temperatures and immune activation in insects. For my PhD work, I plan to further examine underlying mechanisms of cold-induced injuries in insects, using gut bacteria and the immune system of insects as markers."
–The above story was written by Taia Goguen-Garner
Tuesday, May 11, 2021 in News, Research
Share: Twitter, Facebook