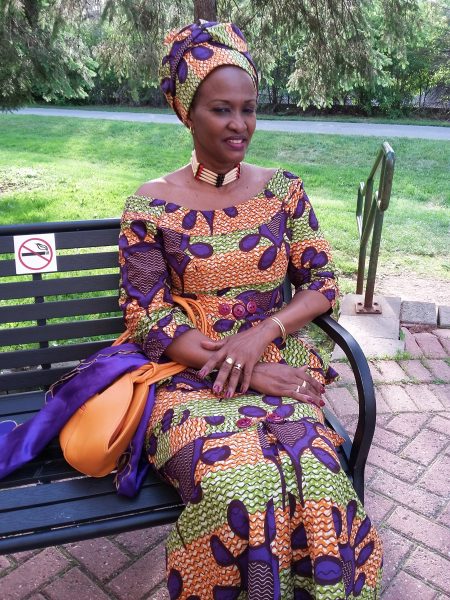 Regine Cirondeye is one of the first students to graduate from Carleton's Graduate Diploma in Migration and Diaspora Studies (GDip) this June 2021.
She says she feels: "Thrilled. I feel like dancing on the roof. The first cohort is the first cohort. It will be in the books of Carleton University. I am glad to be part of Carleton University history."
Carleton launched its graduate programs in Migration and Diaspora Studies in the Fall 2020, including a two-year Master of Arts and a one-year Graduate Diploma program. These interdisciplinary programs allow students to explore the social, cultural, political, and economic implications of the movement of people and build on the expertise of over fifty faculty members from different humanities and social science departments across campus.
The Graduate Diploma can be taken as a stand-alone degree program or combined with another Carleton graduate degree. The Graduate Diploma is well suited for students or professionals who wish to gain additional academic credentials in this field. Graduate Diploma students who apply to the Migration and Diaspora Studies MA program also have a "laddering" option in which they are able to count their Diploma credits towards the MA program, shortening the overall time to completion of the second degree.
Cirondeye is planning to take advantage of the laddering option and continue in the MA program this Fall.
"At this point, I think the GDip is a great choice for my particular case," says Cirondeye. "I will get an MA in two steps. I can even stop now and continue later on." She notes that if you transfer to the master's program, all the 2.5 credits from the GDip are transferred, none lost. "From another angle, not everyone can afford to study two years of the MA straight, so it might be convenient for some people to do this in two steps."
Cirondeye says: "It is a rewarding program. I am better, knowledge-wise about migration and diaspora studies, migration drives, internally displaced peoples and refugees in camps and those lucky to be resettled abroad, migration management around the world, irregular migration, the multi-loaded challenges of newcomers, humanitarian policies, the expected mutual and responsible relationship between immigrants and the host society, and mostly I learned about the Canadian, and international old and new framework and ongoing discussions – legally binding or not – on migrations and refugees, to name just a few."
When asked about her favorite professor, she found the question very hard to answer, choosing from a pool of so many talented professors. She named the Migration and Diaspora Studies Program Director, Dr. James Casteel. "He was always there for us. Ready to answer questions. He knows it all."
For the last four years, Cirondeye has been working for Immigration, Refugees and Citizenship Canada (IRCC) as a Research Analyst. She says that the GDip program was a natural move for her career.  Before that, she worked for 12 years at Global Affairs Canada as a Policy Analyst in charge of Migration, Demography, and their impact on Development. Cirondeye has an Honours Bachelor's degree from Carleton in Social Work and Law.
Tuesday, June 15, 2021 in 360, News, Research
Share: Twitter, Facebook