It's been an unusual two years for students at Carleton and other universities. Many, including Sprott PhD Student Christina Dreger-Smylie, have spent part of that time working remotely.
In fact, COVID-19 has impacted the landscape of many workplaces.
The pandemic created an opportunity for Dreger-Smylie to examine the experiences of employees working from home during the pandemic and to help organizations develop post-pandemic work arrangements.
She is leading projects with two Federal Government Departments.
Dreger-Smylie explains her first project. "I am examining how the experiences of the same 15 employees fluctuate over time, how they are coping with the various challenges they experience, and why some employees can adapt or thrive and why others cannot."
At regular times along the way, she presents her findings back to the organization and employees have an opportunity to ask questions and make suggestions about interview questions for the next timepoint.
Throughout this research project, employees have contacted Dreger-Smylie with items they would like added to future engagement (e.g., impacts of screen time, impacts of increased meetings, personality questions) and managers have been altering their strategies based on what they hear at the findings presentations.
Her second project is helping a section of a specific Federal Government Department decide on its definition of hybrid work and implement this definition. The end goal is a definition of hybrid work with clear expectations for how employees will enact their hybrid work arrangements.
Living Her Research
"I really do live and breathe my work. I have always been interested in employees work-life issues and right now, we are living in this crazy time where we have brought our offices home. Although the past two years have been challenging, I think I will always view them positively for providing me with these research opportunities."
Dreger-Smylie works in change management at a Federal Government Department in Ottawa. In this role, she leads research and engagement with employees in the Department that is informing the development of hybrid work arrangements. This allows her an opportunity to use what she learns from her research in a practical sense.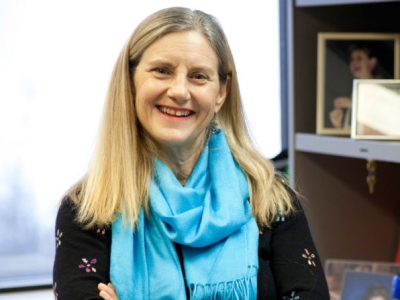 The PhD student is supervised by Canadian work-life balance expert and Sprott Chancellor's Professor, Dr. Linda Duxbury. Duxbury has produced several reports on how workplaces have been affected by Covid. As well, she has authored or co-authored many, many reports and two books about this topic. She has been lauded for her research by several organizations.
Dreger-Smylie is grateful for Duxbury's guidance. "The past three years in the PhD program have been marked by my immense growth as a researcher. I attribute all of this growth to Dr. Duxbury. She is an amazing mentor and I love working with her."
Dreger-Smylie is not the only Carleton graduate student to sing the praises of Duxbury. She has won two Faculty Graduate Mentoring Awards at Carleton University, which are presented to faculty who have gone above and beyond to mentor their graduate students.
Going Forward
Dreger-Smylie says that the COVID-19 pandemic has set in motion a structural shift in the way we work. "As organizations have learned that employees can, and at times prefer, working from home, leaders agree that the future of work in the developed world is hybrid."
Her research will offer two strong examples of the implementation of hybrid work for practitioners, scholars, and organizational leaders and she hopes that her this research will lend itself to the successful implementation of post-pandemic work arrangements for them.
You can find out more about the work of Grad students and Linda Duxbury by going to this website.
Monday, February 7, 2022 in News, Research
Share: Twitter, Facebook