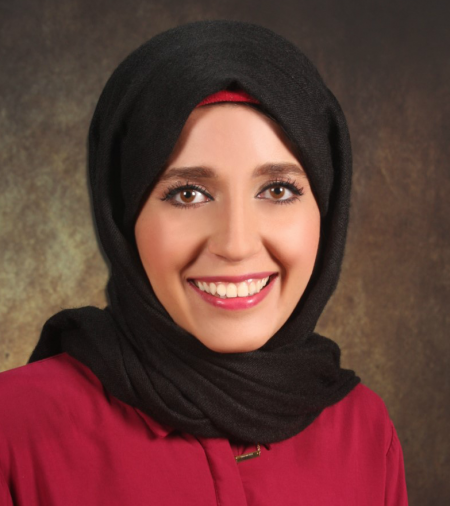 It all started on a cold, dark day in February 2016. Rawan Alkurd was on her way home from class and trying to use the Internet on her phone to look up which bus she needed to take back home. After many tries, the Internet failed to work on her phone. Alkurd dreamed of a world where the network was able to recognize that it was an emergency and give her the priority over other people using the network at the same location. This led Alkurd to starting the process of creating a company of her own to solve this issue.
Says Alkurd:  "I have never stopped thinking about that thought since that day and I decided to create a solution that makes it possible."
Alkurd is a PhD student in the Electrical and Computer Engineering program. Her main research focus is in personalization in 5G wireless networks and beyond, using Artificial Intelligence (AI) and big data analytics.
Her research has led her to work towards creating her own company, along with her two supervisors. The company is set to launch in 2020. "Our main focus is developing this technology to build a model for personalizing current cellular networks."
Alkurd explains that her model measures and tracks the real-time user satisfaction information in a non-intrusive manner. Then, utilizing machine learning and big data analytics, the network personalizes the process to the end user's specific needs and requirements.
"Our developed technology helps operators to deliver mobile services profitably to subscribers in a win-win setting," says Alkurd.
"I was always fascinated with the power of AI and machine learning and I knew that I wanted to use it to create something innovative that has value for everybody," shares the PhD student.
Alkurd is one of the recipients of the 2016 Vanier Awards, which is a prestigious scholarship worth $50,000 per year for three years.
"The Vanier Award was one of the key factors that enabled me to start off the company," says the graduate student. "The award made me financially independent from the industry and other organizations. It enabled me to own all of my inventions and hence, I have the right to commercialize them through the new start-up."
Alkurd has been working under two supervisors Dr. Halim Yanikomeroglu who is a professor at Carleton with interests that span the physical, medium access, and networking layers and the cross-layer aspects of wireless communications.
Dr. Ibrahim Abualhaol is an Adjunct Research Professor at Carleton and a Lead Data Scientist in a major industrial player. His expertise is in machine learning modeling and real-time big data analytics.
Says Alkurd: "They both believed in me and the idea. They gave me the choice to choose to work on something I am very passionate about. They also helped me a lot through our discussions and meetings and gave me all the support I needed to bring this idea to light. I feel very privileged to work under their guidance."
Jeffrey Smirle, who manages Carleton University's Innovation Transfer Office has been working with Alkurd and has aided in finalizing both a U.S. and international patent regarding Alkurd's research.
"When I reviewed their work and their invention disclosure, I found it fascinating," says Smirle. "There could be a really strong market for this type of application, and so I was happy to provide support for their spin-out company plan through the patent process."
Alkurd's vision is: "To become one of the world's leading companies in big data-driven, AI-based personalization solutions for various types of applications."
"In five years from today, the company will build, prototype, and commercialize the technology to personalize at least two-three applications. The first application is the cellular network personalization."
Thursday, September 5, 2019 in Research
Share: Twitter, Facebook