–The following story was written by Taia Goguen Garner
Toronto slang has become an epidemic that has spread far beyond the confines of the Greater Toronto Area. Often we credit the origins of Toronto's slang with mainstream artists that have come out of Toronto such as Drake or Partynextdoor. But Toronto slang has a far more intricate, historical context to explain where and why this slang has become so widespread across Toronto communities.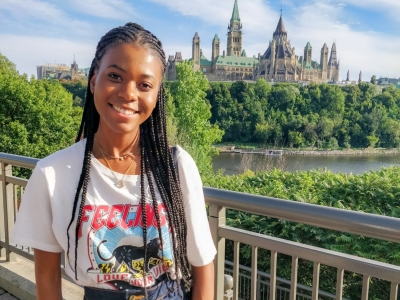 Raven Wilkinson has been looking at Toronto slang for her research and has been making a connection to Jamaican culture and more specifically Patois (the unofficial language of Jamaica) as a common denominator between the two forms of jargon.
Wilkinson is a Master's student studying Communication. Her main research question looks at the ways Patois, as a language, is used to define the Jamaican identity, and now being used to define locations abroad through various cultural processes and connections.
"My pride in my heritage, my pride in my home, and my interest in language drove me to conduct my research project on Patois' influence in the GTA," Wilkinson shared. "I also wanted to explore a trend I have noticed throughout my life and discover its significance to society, academia, and one's personal understanding of cultural exchange and connection across the numerous Diasporas following colonialism."
The use of Patois in Jamaica developed during a time of colonization and slavery, Patois was an underground language that helped adhere to the forced use of imperial languages while still having a dialect that only Jamaicans could understand.
"Patois speaks of the pain and trauma of Jamaicans' ancestors, as well as the tactics used to subvert, appropriate, and mimic the colonial language, allowing slaves to hide meaning in plain sight," explained Wilkinson.
With Jamaicans making up a significant portion of Toronto's population, it is inevitable that Jamaican culture has had an influence on Toronto's society, more specifically its slang.
Wilkinson has conducted qualitative research using both surveys and interviews focusing on people who are familiar with Toronto slang, as well as living in either Toronto or the GTA. Here she has found that many participants associated the use of Toronto slang with race, place, age and ethnicity, and the idea that to use this slang "authentically" is dependent on those variables.
Says Wilkinson: "Some believed that Toronto slang is more closely aligned with radicalized peoples who have experienced similar life experiences. There were also some participants who believed that the areas in which one grows up is a stronger determinant of authentic use. For example, someone who grows up in an area with heavy Jamaican influence is likely to adopt the terms from Patois and integrate them into their everyday speech more naturally than someone who is outside of this group and has only had indirect exposure to the slang, such as through social media or rap music."
Professor Merlyna Lim has been supervising Wilkinson throughout her research. Wilkinson first met Prof. Lim when attending one of her seminars where Wilkinson first began to explore the topic of Jamaican culture and language.
"As my supervisor, she has helped to demystify thesis writing and demonstrated the ways in which I can make my project original and personal, while still adhering to the expectations of the program. As a researcher who prioritizes storytelling in her work, she has been a suitable match for me and the narrative approach I am taking with my own project".
Wilkinson has received funding from the Social Sciences and Humanities Research Council.
To learn more about the MA in Communication, please click here.
Tuesday, January 15, 2019 in News, Research
Share: Twitter, Facebook