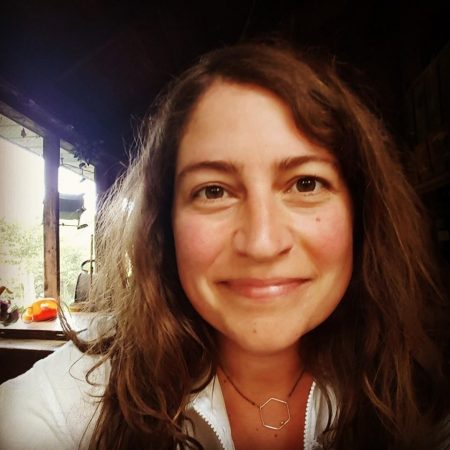 Some fear getting stung by a bee, others immerse themselves within the world of beekeeping as a means of therapeutic intervention.
Sam Davidson, a Master's student in Social Work has been looking at the therapeutic effects of beekeeping.
"My research explores the use of therapeutic beekeeping as an intervention in social work with a focus on the potential impact on the physical, mental and social health of program participants"explains Davidson.
Davidson's research uses two different sample groups. First, she has looked at the effects of beekeeping in social work in both Vancouver and Montreal. Next, Davidson has launched a program at the Collins Bay Penitentiary working with inmates and teaching them beekeeping techniques.
The program at Collins Bay was started with the funds that Davidson had received from CUROP. Davidson brought two hives from her backyard to the prison and ran a beekeeping program for 10 weeks. At the end of that time, they harvested and extracted just over 140 lbs. of honey.
"Each inmate took two jars of honey and a certificate of completion at the end of the program," explains Davidson. "Two months later, I returned to the prison and conducted five semi-structured interviews with program participants. I am now currently transcribing those interviews for analysis."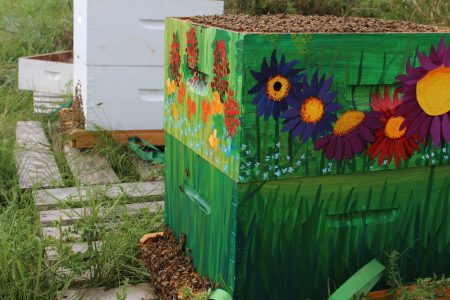 Davidson initially got interested in beekeeping from her rural upbringing. Her professional background in food security also launched her towards the direction of beekeeping, as it is a means of food production.
"My co-workers were excited about food while I was excited about social justice and advocacy", explains Davidson. "This left me feeling a bit left out of the conversation with my co-workers. At the same time, I recognized my disconnect with the food system as problematic. I was looking for something that would help me feel more included in the work we were doing in a professional way but also at a deeply personal, fulfilling level."
Continues Davidson: "Bees, honeybees in particular, have received media attention in the past few years with reports of significant die offs with potentially dire future consequences for pollination and food production. Honeybees add so much value to our lives, whether you are a fan of honey or not, and as a society, we are failing to respect and protect that value. That this failure is at our own potential demise is all the more untenable."
Davidson says she viewed the idea of beekeeping as something akin to a victory garden from wartimes.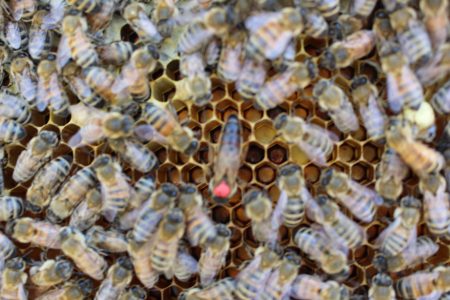 Through Davidson's journey learning how to keep bees, she came across an organization called Hives For Humanity where she was introduced to beekeeping as a means of therapeutic intervention. This ultimately inspired her current endeavours.
Her research has found that beekeeping not only impacts environmental health as well as contributes to the food system, but it also has significant meditative benefits for participant's mental health.
"Participants report increased feelings of calm while beekeeping and there are suggestions that this feeling can carry on after the beekeeping session. Further, participants have identified that the act of beekeeping has strengthened their social health by providing opportunity to meet and connect with others and by the act of sharing information they learn through beekeeping with others."
Dr. Melissa Redmond has been supervising Davidson throughout her research. Davidson credits he advisor as helping transition the project into an Independent Research tutorial. Davidson also thanks Dr. Redmond for sharing a wealth of practical knowledge and experience as well as providing emotional support and encouragement.
"What I most appreciate about the Social Work program are the people. The staff, at all levels, are knowledgeable, passionate and helpful. My fellow students have such diverse backgrounds, perspectives and work experiences that they share freely and respectfully. Most importantly, I find the people I interact with through the program are all curious, they seem interested and en-gaged to learn more about each other and themselves."
Davidson is set to graduate in November with a Master's degree in Social Work.
–This story was written by Taia Gaguen-Garner.
Monday, September 9, 2019 in News, Research
Share: Twitter, Facebook